Nick and Kevin Pokemon Fan Site
---
Pokemon LeafGreen and FireRed Launch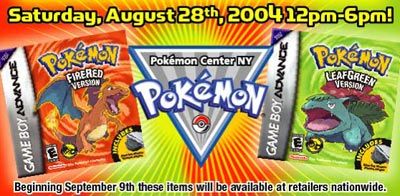 At the Pokemon Center in NY they are going to throw a party for the launch for Pokemon LeafGreen and FireRed also at the party you can buy Pokemon LeafGreen and FireRed before it comes out in stores.
The party will be on August 28, 2004 from 12:00 P.M. to 6:00 P.M.
The game wont come out in stores until September 9, 2004.
The party is also to say thanks to the Pokemon fans around the world.
Also the fans that pre-ordered the game can pick their game up and the fans who didn't pre-order the game can still order a game too.
At the party there will be a stage show, carnival games where you can win fabulous prizes and you can meet Pikachu, Charmander and Meowth in person or you can go by the Pokemon Trading Card or video game tutorials sponsored by the staff at the store.
You can can come to the Pokemon Center to have fun at the party even if you don't buy a copy of the game.