Nick and Kevin Pokemon Fan Site
---
Pokemon Play Day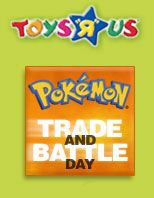 Pokemon FireRed and LeafGreen have been released and so you probably started your journey in the Kanto region and earning badges and catching a lot of Pokemon. There is also a feature in the game that you can wirelessly Trade, Battle and Chat with your friends with the new Game Boy Wireless Adapter.
But you might not have enough friends or your friends don't want to get their well trained Pokemon team get beaten.
This Saturday Toys R Us has the answer with The Pokemon LeafGreen and FireRed Trade and Battle Day!
So on September 25 you can come down to your local Toys R Us and have a chance to enjoy Pokemon LeafGreen and FireRed fun just bring your GBA and your Pokemon LeafGreen and FireRed cartridge for the chance to battle and trade your collection and you can tryout their new Trading Card Game Set EX FireRed and LeafGreen to receive a free promo card and TCG playmat (while supplies last)!
So come to your local Toys R Us this Saturday and if you are one of the first 50 people you can receive a free Pokemon LeafGreen and FireRed character poster.