Nick and Kevin Pokemon Fan Site
---
Pokemon LeafGreen and FireRed Launch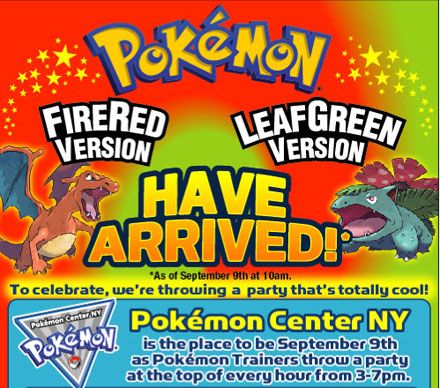 Pokemon LeafGreen and FireRed is now avalible at stores and the Pokemon center in NY is having a party to celebrate.
Pokemon LeafGreen and FireRed is just like Pokemon Blue and Red but with new features like new islands to explore, 2 on 2 battles, cordless trading, battling and Chatting with the new Game Boy Wireless Adapter (Included with Pokemon LeafGreen and FireRed) and you can also buy Pokemon LeafGreen at the Pokemon Center in NY where the party is.
The Pokemon Center in NY isn't just celebrating on the launch of Pokemon LeafGreen and FireRed they are also celebrating on the Pokemon Trading Card Game ex Fired and LeafGreen also there celebrating because there's going to be a Charizard and Venusaur game Boy Advance coming soon but you can pre-order then now at www.pokemoncenter.com!
The party will be at the Pokemon center in NY on September 9 from 3 to 7 P.M.